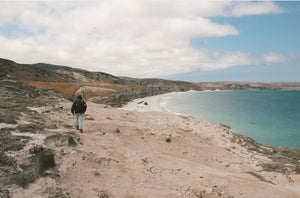 A Look Into Channel Islands National Park
Off the west coast you'll find the Channel Island National Park, made up of 5 islands. In 2021, only 3 were accessible: Santa Cruz, Santa Rosa & Anapaca. San Miguel is only accessible during the fall and Santa Barbara had a docking issue. Overall, the islands are only accessible by ferry or private sea planes. You can either make a day trip or camp overnight. 
On the islands you'll find: over 150 species of wildlife unique to the islands, beautiful breathtaking views, amazing snorkeling coves & endless hikes. 
The first island we visited was Santa Cruz. This is the largest of the Channel Islands and has great snorkeling & hiking options.
There is also one of the world's largest Sea Caves here called Painted Cave and is about a mile deep. The island is also home to very cute foxes. 
Anapaca Island was the second island we visited and is the smallest and closest island to the mainland. We were able to hike the whole island and snorkel in one day. This island is also home to the beautiful sea arch.
Sea Arch
Last but, definitely not least is Santa Rosa Island. This island is huge and filled with what grass fields and the Torrey Pine trees. This island is one of two places in the world where these trees can be found - the other being San Diego, CA. 
The Unique Torrey Pine Tree
The other awesome thing about visiting these parks are the long boat rides out in the middle of the pacific ocean. We were so excited to spot quite a few pods of Dolphins and even a baby humpback whale that was breaching the water for about 30 minutes. 
---