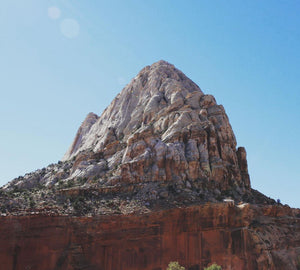 Next Stop on UT NP Tour: Capitol Reef National Park
Welcome to Capitol Reef National Park! This park just celebrated it's 50th anniversary since it was established in 1971. The Capitol in the name refers to the white dome formations in the park (featured image) while the reef refers to the rocky landscape that fills this souther Utah park. These multilayered sandstone formations are known as the "water pocket fold" in the grand scheme of the whole Grand Staircase Escalante. 
The Hickman Bridge Arch
The Grand Staircase Escalante consists of hundreds of different layers of rocks that have been forming over millions of years and lay out between Bryce and the Grand Canyon. The layers in Capitol Reef have been formed over millions of years by tectonic plate activity, weather and erosion. 
Fremont River
About 1,000 years ago, the area that is now Capitol Reef was occupied by the native Fremont people. Their petroglyphs are left behind in the park. After the Fremont people, the Mormons settled in the area next. They carved their names into the rock, similarly to the native petroglyphs. Shortly after the mormon pioneers, the US government mined the land for Uranium. However, it was unsuccessful and was stopped shortly after. Now the park is a home for wildlife and nature. 
In the park you'll find: deer, lizards, birds, the 200 year old Fremont cottonwood trees, flowing rivers and fascinating rock formations. 
---