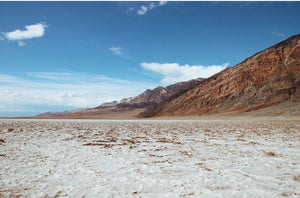 Inside The Hottest Place On Earth: Death Valley
In 1949, a group of pioneers got lost in a desert valley. Only one of the pioneers died, however, they all assumed the valley would be their grave. After being rescued, one of the men turned around and said, "Goodby Death Valley," and that's how the valley came to be known!
Devil's Golf Course
Death Valley is the LARGEST national park in the continental US at 3.3 million acres. In the park you'll find the lowest point in North America: Badwater Basin at 282 ft below sea level. This is also where the hottest temperature on earth ever was recorded at 134 degrees Fahrenheit, in 1913. The featured image of this post is of Badwater Basin.
Aside from being known as the hottest desert, the park is filled with beautiful wonders such as The Devil's Golf course, a massive field with salt formations, The "Artists' Palette," and The Ubehebe Crater.
The Artists' palette (pictured above) are a group of mountains made up of blue, purple, red, orange, pink, yellow & green rocks from volcanic deposits rich in iron oxides and chlorite compounds. The Ubehebe crater (pictured below) is a 600FT deep crater created after underground hot magma rose to a body of water at the surface and caused an explosion. 
Lastly, we can't forget the desert wildlife! Despite the hot temperatures and scarcity of water animals like coyotes and zebra tailed lizards! 
Spotting these beautiful creatures is truly a treat with the vast desert landscape behind them. 
---