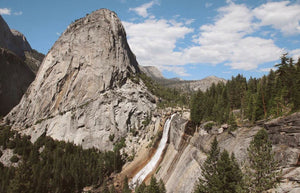 Inside Yosemite National Park: John Muir's Natural Paradise
Yosemite, along with King's Canyon, was established as a US National Park in 1890. The two parks share the spot for the 3rd National Park in the US and the the world! Fun fact: Canada was the first country outside the US to establish a National Park in 1911. Although Yosemite became a park in 1890, President Abraham Lincoln signed the first Land Grant in the US in 1865 to protect the land where the park now exists. 
John Muir is credited for the creation, protection and awareness of Yosemite as he would spend months at a time staying in his cabin, in what is now the park, and write about the surrounding nature that was filled with beauty. These writings led to Lincoln signing the land grant, the establishment of the park and many visitors coming to see the beauty that John Muir described (even to this day)! 
El Capitan Wall 
Yosemite is home to one of the largest waterfalls in the world, Yosemite Falls, at 2,425 ft. Watching the massive waterfall against the towering granite is such a sight! Because of John Muir's influence, there is a "John Muir" Trail in the park that leads to other waterfalls such as: Vernal Falls and Nevada Falls (the featured image of this blog). While these waterfalls are not as tall as Yosemite Falls, the John Muir trail is famous for leading to the parks biggest attractions: Half Dome. 
Half Dome is a massive granite formation that inspired the North Face's logo and company name (the "north face"-ing features of the rock). Every year, many enter a lottery for a permit to climb the dome. It's a very dangerous and strenuous summit because if there is so much as a light drizzle, the dome becomes extremely slippery due to the granite nature of the rock. More than 20 people have died by slipping off the dome itself and upwards of 60 people have died on the trail there. 
Aside from the incomparable beautiful granite rock formations, the park is filled with meadows, rock climbing walls, such as El Capitan (pictured above) where Alex Honnold free solo climbed to the top, and lots of wild life! We spotted a Sierra Mountain black bear, marmots and lots of birds! This park holds such a special place in our hearts as it is where OTAK Founders: Casey an Julian got married in 2019. 
---