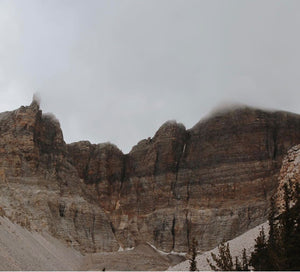 The Greatly Underrated: Great Basin National Park
This underrated beauty is located in Eastern Nevada and houses some of the highest peaks in the state - as well as Nevada's LAST glacier. The glacier is aptly named Dirt Glacier since it's always covered by a layer of dirt due to the desert winds. It's nestled in the base of the park's highest summit: Wheeler Peak, coming in at 13,064 feet tall. 
Wheeler Peak
This park is also home to the ancient Bristlecone pine Tree and a massive grove of them. This tree species is the oldest in the world as well as the oldest known non-clonal organism. They are over 3,000 years old and are known to live up to 5,000! 
A Bristlecone Pine Tree
After you visit the state's only glacier and the oldest trees in the world, you'll get a great view of the Great Basin Mountains and the dry and mountainous region between the Sierra Nevada and Wasatch Mountains. It's a must visit in the fall as the foliage is vibrant and colorful. 
Lastly, as if this park couldn't get any cooler, it is a Dark Sky Park, meaning that all the lights in and surrounding the park are pointed down and dimmed a red color to have THE BEST STARGAZING EXPERIENCE! A must visit! 
---