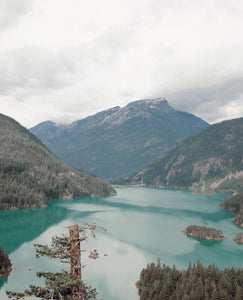 Visiting North Cascades National Park
Filled with striking blue waters, North Cascades National Park resides about 3 hours from Seattle in northern Washington. These deep and bright blue waters are fed by the melting glaciers in the Cascade Mountain range. This mountain range extends from Northern California through Washington and ends in Southern British Columbia. It includes both volcanic and non-volcanic mountains. 
In addition to the notably blue waters, the park is also characterized by it's massive lakes, water falls and jagged peaks covered in glaciers. In fact, North Cascades has over 300 glaciers, more than any other US National Park outside of Alaska. The park is also unique in that it encompasses Ross Lake and Lake Chelan National Recreation Areas as well. Visit the park and visit 3 in one federally managed nature areas!
Lake Chelan
Diablo Lake 
Ladder Creek Falls 
The park, over 800 square miles and 500,000 acres large, is a must visit if you're in Washington State. Fall is a beautiful time as the. leaves display stark bright colors against the natural colors of the park.
---