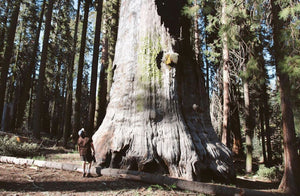 Walk Amongst The Largest Trees in the World: Sequoia National Park
Welcome to the first National Park established to protect a living organism: the Sequoia Trees. It's believed that an Austrian botanist named the tree species after a Cherokee Tribe member named Sequoyah! Sequoyah is credited for creating a writing and reading system for the Cherokee nation. Such an epic tribute that matches the epic trees that live in the park! 
In fact, this park is home to the LARGEST TREE IN THE WORLD, by volume. There are taller trees and there are wider trees but no other tree has more wood in it's trunk than the tree named: General Sherman. 
In the park you're able to walk amongst General Sherman and thousands of other Sequoia trees that are just as impressive. In addition to the forests riddled with massive tree trunks, the park has so much beautiful scenery, hiking and wildlife to see. One popular hike is to the top of Moro rock, a beautifully massive granite rock that offers great views of the park. 
Moro Rock
Our favorite hike was the strenuous Lake Trail. On this trail we made it up 3,000 ft of elevation and totaled 16 miles (out and back). Along the way we encountered a black bear, a marmot, 2 beautifully hidden lakes and last but NOT least - a mountain lion!!! Unfortunately, our camera had died by that point, as it was on our way down, and we did not get a good picture of it. At least we'll have our memories! 
Emerald Lake (Accessible Via Lakes Trail - Approx. 8,000 Ft.)
Sequoia will always be one of our favorites as it was a weekend filled with magical nature, bear sightings, a mountain lion sighting and so much hiking. 
---