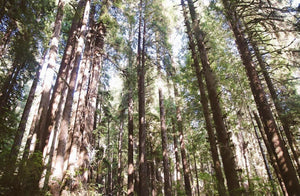 Walking Amongst The Tallest Trees In The World in The Redwood National Park
Welcome to Redwood National and State Parks! That's right, Redwood NP is unique as it houses 3 individual California State Parks within it's borders! So when you visit this national park you'll also be visiting: Del Norte Coast Redwoods State Park, Prairie Creek Redwoods State Park and Jedediah Smith Redwoods State Park. 
This combo national and state park is filled with 132 acres of nature. Here you'll find the world's TALLEST trees! In fact, the three tallest individual trees in the world live in this park! However, their location is kept a secret to avoid any vandalism or damage being incurred by visitors. The secretly hidden tallest redwood tree is about 380 feet tall! Fun fact, While named after the dominating Redwood trees, the park also has a substantial amount of Douglas Fir trees!
Aside from standing higher than any other tree species in the world, the Redwoods continue to amaze us even after they fall and die! That's right, even when a redwood falls, it still lives and contributes to the environment around it. This includes growing moss and providing shelter to tiny organism, bugs and the famous: banana slug!
In addition to seeing the towering trees, in the park, you'll find beautifully vast meadows and the famous Fern Canyon! This canyon may look familiar to Jurassic Park fans as it was featured in the movie! Such a fun and beautiful park! 
---