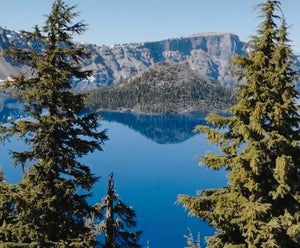 Welcome to Oregon's Only National Park: Crater Lake NP
7,700 years ago, the volcano sacred to the Native Makalak People, Mt Mazama erupted and collapsed creating Crater Lake. The Makalak, the natives, believed that the eruption and fall was caused by a battle between the spirit of the sky and the spirit of the mountain. Now Crater Lake is protected by a national park of the same name that also houses other beautiful remnants of the volcanic activity including a cinder cone island & pinnacles.
Crater Lake National Park is currently Oregon's only National Park. The lake itself is the deepest lake in all of America, reaching depths of 1,943 FT. In the whole park, there is only one legal point of access where visitors can see the water up close and swim. But beware, the water is pretty cold at an average temperature of 38 degrees f
ahrenheit
. 
Wizard Island 
The lake has a few small islands but the largest one overshadows them all: Wizard Island! Wizard Island is a remnant of an old cinder cone volcano. Another fascinating volcano remnant you'll find in the park is the "pinnacles." Thousands of years ago, a volcanic eruption carved a valley and the escaping steam formed these sharp features made of volcanic ash. 
The Pinnacles
Last, but definitely not least, the park is home to the beautiful white bark pine tree species. These trees have distinct white bark and twisted branches and can only grow in high elevation settings. The oldest white bark pine tree in the park is over 500 years old and is name "The Grandmother Tree" (pictured below). 
---